"One of my own core values is collaboration with others and seeing them succeed. As a leader, I have learned that my actions can have a positive impact on my team members and help make a difference to the lives of our participants."
Nadine Toic is a Team Leader at Ability Action Australia. Transitioning from IPAR to this rapidly growing organisation was both challenging and rewarding for Nadine, especially in her leadership role. Nadine's successful journey within MedHealth is one of perseverance, commitment and learning to trust your instincts.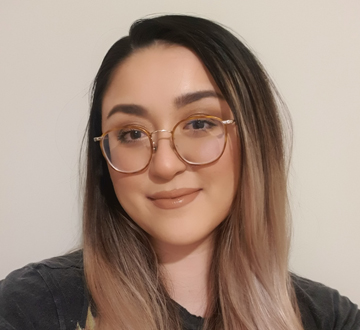 My career journey with MedHealth
One of my fist jobs was as a Case Manager at Allianz, assisting injured employees and their employers. It was here that I had my first contact with IPAR, and I formed some strong connections and friendships. I loved the culture and values at IPAR and eventually made the move across as a Rehabilitation Consultant. I have always been interested in leadership and soon accepted a role as Team Leader.
At this time, I was also appointed the subject matter expert within the NDIS space to provide therapeutic services to participants and was responsible for the induction and provision of ongoing support to OTs, physios, and exercise physiologists to provide a clinical service state-wide.
I was increasingly passionate about helping individuals with their independence, so in 2020, I discussed with my manager about making a move to Ability Action Australia. I commenced as a Senior Occupational Therapist and last year I became the Occupational Therapy Team Leader, managing the Northwest region of VIC (metro).
The challenges
Helping someone return to work or working anywhere in healthcare can be tiring. It takes a lot out of you and can result in burnout. It's difficult to think about yourself when you are focused on others. I have often felt fatigued and unproductive during this pandemic, but the teams at IPAR and Ability Action Australia have always been extremely supportive and understanding.
Ensuring you look after your own mental and physical wellbeing is a challenge. You must be vigilant and be able to identify the signs and symptoms of burnout, so that we can all continue to provide the high-quality service that we pride ourselves on.
Transitioning roles
Transitioning to another business was challenging, but I am a fast learner, and I was given a lot of creative freedom. I loved my team and the culture at IPAR, and I wanted to create that at Ability Action Australia. The culture was already very good, and I wanted to be with people who shared the same vision and commitment to culture that I value. 
My inspiration
I was inspired at an early age by my mother and her work in aged care. I saw first-hand how we can help improve the quality of life for the elderly. Mum encouraged me to pursue a career in healthcare and I soon gained a qualification as an Occupational Therapist. I had no idea about the work of OTs but quickly realised their importance in improving and increasing people's independence. I am also constantly inspired by others around me, every day.
An instinctive leader
Learning to trust my gut instincts has helped me as a leader, but also learning to trust the good people around me. What I have learnt is that you will never know all the answers, but everyone has their area of expertise. For instance, I don't have all the clinical knowledge, but someone else will. I have also learned to listen, and I have always felt heard – that is an important part of feeling valued and contributing to successful outcomes.
The importance of our work
It's important that I am a leader who has a positive influence on my team. I want to be a real pillar of support for them and most importantly, see how that can impact positively on our participants and help them live a better life.
Moving to Ability Action Australia full-time was both challenging and rewarding, especially in a leadership role. One of my own core values is collaboration with others and seeing them succeed.
I can't even fathom the growth we have experienced in the last two years. The people I work with are simply amazing, caring people. Since my commencement, I have realised what a difference we can make. Seeing someone achieve their goals and being part of that journey is so special to me. It made me realise how much I love being part of this team