"Everywhere I have worked and everything I have done during my career, there's been opportunity to do more, and I've always put my hand up. I have never lost my passion to make a difference to the people we care for."
Kylie Gould is the National Account and Marketing Manager for Medilaw Group, supporting multiple brands and services within MedHealth's Personal Injury division. Her journey has been focused on seeking out new opportunities to do more, to learn and grow from her experiences and in discovering the power of connection and collaboration with others.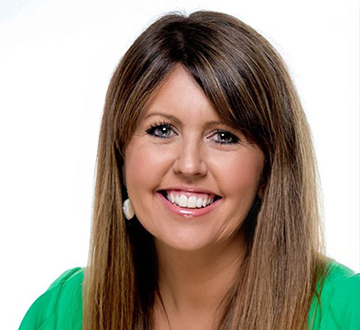 My career journey with MedHealth
Kylie graduated from La Trobe University with a Bachelor of Business, a new baby in her arms, and a passion to care for her family and grow a successful career. In 1995 she applied and was accepted into the graduate program at the Transport Accident Commission (TAC) in Victoria, beginning her journey in the personal injury sector.
Kylie worked in various roles for TAC, including as a rehabilitation coordinator. She had no allied health degree, but she did have a trusting relationship with her divisional manager, who took a leap of faith with Kylie, who embraced the challenge of working with people with spinal cord injuries and acquired brain injuries.
"It was one of the most powerful roles I've ever had. I spent a lot of time in people's homes during some of the most traumatic times of their lives. Many were parents of teenagers, whose lives were changed forever. It's why I'm still passionate about making a difference to injured people's lives," says Kylie.
A team leader role soon became available with TAC and Kylie took up the opportunity. Later, she had her second child and took a short break before accepting another opportunity as client relationship manager, helping TAC achieve their highest customer service results at that time.
After attending a WorkSafe Victoria presentation in 2005, Kylie was soon lured by another challenging newly created role and was successful in obtaining the position of Director of Service Improvement, for the Victorian Workers' Compensation Scheme. She was also responsible for managing the client research program that measured scheme performance and reported injured worker satisfaction.
For the next five years, Kylie led the way in this role, transforming the service delivery to injured Victorians, before taking maternity leave to have her third child.
"During this time, I experienced being made redundant for the first time in my life, and it was hard for me, especially when you are hoping to enjoy that special time with your family, but you're also mourning the loss of a career that you've been working so hard to achieve. So, it was a really interesting personal time for me, learning how to manage my grief and stay positive," says Kylie.
In 2009, Kylie turned her negatives into positives and worked with a couple of local mums to set up a not-for-profit charity, providing free dress hire, shoes and accessories for our disadvantaged youth. She then worked with Medibank Private, negotiating pathology and radiology contracts, accepted an operations manager role to establish a new business (Remedy Healthcare) with Australian Unity, before landing her first role with MedHealth's mlcoa brand in 2016.
In her roles as State and General Manager and then the newly created Business Development Manager role for mlcoa, the next few years provided valuable learnings for Kylie – the importance of a positive relationship with your manager, the ability to give and receive feedback, good or bad, and the importance of fostering an engaged and caring team.
Kylie again felt the need to push herself and take on new opportunities and in 2018, joined another new MedHealth brand, commencing with the Medilaw Group on the day it was formed.
In her current role, Kylie is the National Account and Marketing Manager for the group, which incorporates Medilaw and Next Health. In 2022 Kylie took on an additional role of General Manager to launch the new MindSense Centre of Psychiatry business. MindSense works across Medilaw, Next Health and ASSESS to provide complex, trauma informed assessments for survivors of abuse.
"I've never lost my passion for making a difference to the people we care for, individuals that have been injured, whether it's at work, on the road or in their personal lives – it's always been important to me that we treat people with dignity and respect," says Kylie.
My challenges
With newly created roles and responsibilities and newly created businesses it can be sometimes difficult asking people to trust you and work collaboratively with you. Building trust takes time, so it's about making sure they understand the benefits of collaboration and that results will come, when there is naturally a tendency for people to 'protect their own patch of turf'. Having three children and juggling long hours, after hours functions and travel can also be a challenge. I have fostered a strong community around my little family that I have drawn upon when I'm not readily available. There are quite a few colleagues that have been at our house for a rowdy Taco Tuesday. I have always strived to stay connected with people as much as possible when on maternity leave, both personally and through LinkedIn and other social media channels.
My motivation
From a service perspective, I will always have unfinished business. I hold myself accountable on behalf of our clients and customers every day. But it's also the people I get to work with. I could not stay in an organisation where you don't feel connected with the team around you. And that makes a big difference. I love engaging with them, meeting new people and growing existing working relationships. Bringing people together to support each other, gain strength, energy and motivation together to achieve great things is my key driver.
My career highlight
Stepping into MedHealth in my role with mlcoa reinforced to me that I had developed transferable skills and extensive experience during my career that were sought after and valued. It allowed me to achieve significant success in my first 12 months with mlcoa. I have also relished watching colleagues who have worked for me, go on to forge their own career success stories.