"I have always been provided with plenty of opportunities to grow my career within MedHealth. I have never felt I needed to go elsewhere and have always been challenged."
Rachel Biddiscombe is the Business Manager at Kairros. Rachel has a Masters Degree in Occupational Therapy and is inspired to help others. She is passionate about her work and driven to find the next challenge in her growing career. Rachel knows the importance of working hard, being motivated, and never giving up.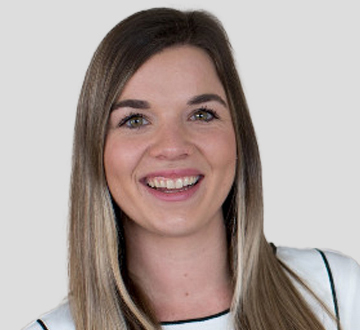 My career journey with MedHealth
I had a chance meeting with the GM of WorkFocus Australia during the last year of my undergraduate degree. I applied for a grant funded by the organisation and was successful. I later met the GM and State Manager at a Sydney University awards night, which helped to launch my career with the MedHealth Group.
I soon started my master's degree and approached WorkFocus Australia for work experience. They eventually offered me the role of Administration Assistance in 2014 and at the end of my degree, I went on to work for them as a Rehabilitation Consultant in 2016. I loved this role because of the diversity and flexibility. No day was the same for me.
A secondment opportunity then came my way as a Team Leader. I wanted the experience and decided to accept the role. This was my first experience with people management. It was challenging, but I really enjoyed being able to upskill team members and provide them with the tools and strategies to become more effective Rehabilitation Consultants.
My team and responsibility continually expanded and in 2018 I was ready to take the next step to further my career. I applied for a Business Manager role for Kairros within the MedHealth Group. Although I was unsuccessful, I was soon offered a similar role with WorkFocus Australia, looking after the business operations of the Hunter region and Queensland.
The pandemic affected travel plans and face-to face client management. So, our work gradually became more remote in nature, and we had to upskill more local individuals in many regions to meet demand.
In 2019 I again applied for a Business Management role with Kairros and was unsuccessful. However, I found more opportunity and experience helping WorkFocus Australia with recruitment during a very busy growth period.
In 2020, I applied to Kairros once more for a Business Manager secondment role and was successful. My role became permanent in 2021.
Transitioning roles
I felt comfortable in transitioning because of my various secondment roles within WorkFocus and Kairros. The two organisations also work quite closely together, sharing business planning and sometimes office space, which means you can connect and network more easily with other team members and management.
As a manager, learning new processes and workflows is challenging. I didn't want to come in and make too many changes upfront. You need to build relationships, learn all the different personalities, and the values of the organisation.
A collaborative leader
I have a very collaborative approach with my management style. I manage my team members on a level playing field because we are all in this together. I don't want to be standing back and pointing the finger. If I think I can add value, then I will always step in and help.
The opportunities
I have always been provided with plenty of opportunities to grow my career within MedHealth. I have never felt I needed to go elsewhere and have always been challenged. I have developed great relationships with all my colleagues and managers over time. It makes such a difference when you know people. I have always been comfortable talking with other managers because they know me, they know my work ethic and my values.