"I am motivated by the impact we can have on our customers and clients. We are all here to make a difference and I hope that what I do can help make others' jobs easier, more efficient and interesting, to inspire them each day."
For Melina Tocas, finance and accounting is as enjoyable as it is important. She is focused on contributing in her role at MedHealth, knowing that everyone plays a part in improving the lives of others. But Melina also values healthy working relationships, recognising the importance of genuine communication and the ability to listen.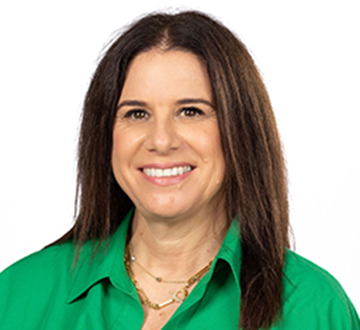 My career journey with MedHealth
After completing her commerce degree, Melina commenced her first job with PricewaterhouseCoopers in the audit department, which soon provided her with an opportunity to work with the firm in the United Kingdom. Melina then took a sabbatical and travelled Europe and Asia for a couple of years before taking up a job in commerce, in the Financial Services sector back home in Perth.
In 1997, Melina went across to Brunei to work for Jerudong International as the Chief Financial Officer. Jerudong International employs over 2,000 staff and operates the Jerudong Polo Club, Golf Club and a Disney style theme park. Melina was responsible for the financial management of each facility, liaising with management and working to train local staff.
"It was such a great experience working in a very different culture. Brunei was really interesting because its population is predominantly Muslim. The Bruneians are beautiful people, and I got to experience their religion, culture and traditions. Many of the locals worked for me and I was lucky to also have my husband working there. We enjoyed Brunei together and decided to have our first child there," says Melina.
Returning to Australia after three years in Brunei, Melina ventured into a retail environment, working part-time for a girlfriend with a kitchen shop. For the next ten years Melina gained a solid understanding of retail and the "nuts and bolts" of small business.
In 2008, Melina joined WorkFocus Australia as the Financial Controller, analysing, reporting and advising on the financial performance of the WorkFocus Group of companies as well as putting in place more formalised systems and processes. Over the next few years as the group began to evolve and grow, so did Melina's role and her responsibilities, servicing the business divisions in all property related matters, business risk, compliance and performance.
Working in an ever-evolving environment, Melina has now provided support across many of MedHealth's services and brands including atWork Australia and Ability Action Australia, working on government tenders and involving herself heavily in the expansion of employment services.
Today, as General Manager of Finance at MedHealth, Melina is currently supporting our fastest growing NDIS provider, Ability Action Australia, but also continues to support other parts of the organisation, including Personal Injury, Employment Services and the Health and Business Solutions Divisions, as well as supporting payroll services and other finance back-office functions across the organisation.
My challenges
I think if you're a strong woman and perhaps have a strong personality, how that's interpreted by others is often seen in a negative light, so you have to navigate that.
Men are generally very good at self-promotion. I think women need to get better at that.  They often lack confidence and downplay their abilities.
Managing people is also a challenge. I acknowledge and respect that everyone has different personalities, values, cultures, beliefs and ambitions. So genuine communication is critically important to me. It helps build trust and respect.
My motivation
I am motivated by the impact we can have on our customers and clients. We are all here to make a difference and I hope that what I do can help make others' jobs easier, more efficient and interesting, to help inspire them each day. Working with my own team is also one of the best parts of my job. I could work from home more often, but I prefer working alongside my team members and interacting with them as much as possible. I think this helps develop trust, build camaraderie, and stay engaged in the workplace.
My career highlight
Funnily enough, even though I'm essentially an accountant, my highlights have always been developing relationships and working with other people. Living and working in Brunei was a great experience and an insight into a very different culture. I also work with so many fabulous people here at MedHealth and that's a big reason why I am still here after 14 years.