"It has been such a wonderful career journey within MedHealth. You never stop growing here. I have met some great people who inspire me every day."
Sandreen began her working life in Sri Lanka in 2005, where she was already excelling in various customer service, administration and recruitment roles. A leader at the time suggested a career in HR might suit her skills and aspirations and in 2022, Sandreen is now thriving as the HR Business Partner for the Disability Services Division at MedHealth.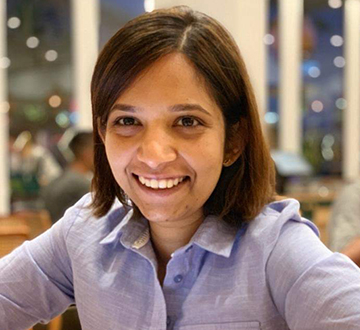 My career journey with MedHealth
After gaining HR experience in Sri Lanka I migrated to Australia in 2017 and soon bcame a HR Coordinator at Wesley College in Melbourne. But opportunities were limited, so I applied for a HR Consultant role with MedHealth's IPAR business.
As the organisation expanded, I then started working across MedHealth's other businesses, gaining more valuable experience in the services we provide and growing my skillset. I eventually became a HR Advisor and worked in the return-to-work and rehabilitation space. During this time I have seen my own team grow and develop. I have discovered that if you are willing to learn, there is so much opportunity for career development at MedHealth.
I also think it's important to remember that employees are people and many can experience difficult times during their working lives. Some may have family problems or be experiencing illness, but they often still want to be working and achieving their goals. I really want to be able to support them, and I get so much inspiration from their determination and drive.
In 2021, I found another growth opportunity to work on HR strategy and I became a HR Business Partner within the return-to-work businesses. 18 months later, my manager suggested I broaden my experience further and use my valuable skills working in the NDIS Services Division. It has been such a wonderful career journey within MedHealth. You never stop growing here. I have met some great people who inspire me every day.
Changing career paths and moving within MedHealth
I always feel excited but very comfortable and confident about moving and changing roles, especially within MedHealth. The organisation is so large and diverse, you don't really need to look externally. Each person I have worked with has had a very positive impact on me. Managers and colleagues actively encourage personal development and career growth. There is a very high level of collaboration.
Feeling welcome
Coming from a culturally different background, I have been accepted with open arms, it's been wonderful. We talk so much about diversity and inclusion here and I see it in practice every day at MedHealth. Change starts at the top, and our leaders have fostered a culture of inclusion within all the teams I work with. Everyone just embraces you for who you are.
The challenges
I think the challenges for me will always be having to build new relationships with new teams, understanding their culture, their background and managing their expectations. It's a little scary to be rebuilding these relationships, but it's also exciting to know that I can, and that I have all the necessary skills and ability.
My motivation
Working with people is my passion and it motivates me every day. I work with various teams from across the organisation. As a HR Business Partner, I can be simultaneously working with management, operations, clinicians, and administration staff. Those relationships I build and the trust I develop are important to me and factors in my motivation.
A listening leader
I strive to build an honest and trustworthy relationship with everyone and be a good listener. As a HR professional, we know that people are our greatest asset, but you can't just wave policies and procedures in front of them every day of the week, especially if they don't understand the need or where it's coming from. I am empathetic and understanding and treat people the way I would want to be treated. I always adopt a 'How can I help you?' approach and I realise that my efforts and actions can really make a difference in someone's life.
Career highlights
Achieving meaningful outcomes in the businesses I work with are always big highlights for me. Developing HR and retention strategies that ensure people are happy and engaged are crucial for business at this time. Just knowing I have had a positive impact is incredibly satisfying.