"I have worn many different hats at work, it feels like I am always learning, progressing and evolving. I have also been given wonderful opportunities to experience many parts of Australia I never felt I would see."
Graduating from university and working for the one single organisation has proven to Amanda that if you have variety, feel supported by your customers and colleagues, and take advantage of the opportunities presented to grow, then you can feel valued and play a crucial role in a business's journey to success.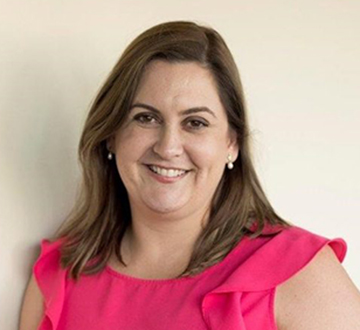 My career journey with MedHealth
After Amanda completed her Honours in Psychology degree at university, she applied for every job she could. In fact, any job advertisement with the word "psychologist" in the title was on her list of applications.
Amanda found her first role as a Rehabilitation Consultant at WorkFocus Australia, and she's been with the organisation ever since. "I remember my first client and how nervous I was, but also, I will never forget how appreciative they were to have been supported to find new employment. I knew I was going to stay around for a while as I loved the impact we could have on clients and also the team members we worked with," says Amanda.
Later, Amanda progressed into a team leader role, travelling to the Bunbury office before applying for a transfer to the Perth office.
Amanda's interest in psychology continued to grow and in 2008, she decided to return to university to complete her master's degree in clinical psychology part-time. WorkFocus supported her in her pursuit and allowed her to continue working around her university commitments.
Soon Amanda applied for a national psychological lead role with the organisation and was initially unsuccessful. However, she was placed on a progression plan and sometime later, secured the role.
Next Amanda applied and was successful in getting a state manager position in WA, working for two years then taking maternity leave for her first child.
Amanda realised she would not be able to continue her full-time work or continue as State Manager, so she returned to work in an account management role.
In 2013, an organisational change allowed her to take up the role of National Account Manager, then in 2015, Amanda took time off to have her second child. Six months later, she returned to her role and continued her work to help WorkFocus become a leading provider in the market.
Amanda joined the innovations team to gain exposure over different products and services and helped deliver these to customers across Australia. In 2021 she was appointed into her current role as Head of Customers, Relationships and Performance whereby she oversees all customer resources for WorkFocus nationally.
Over the past 15 years, Amanda has secured various internal roles including Rehab Consultant and Work Trial Canvasser, New Employer Specialist, various Team Leader roles, National Psychological Lead, State Manager, Account Manager, National Account Manager and Customer Experience Manager – MedHealth and Head of Customers, Relationships and Performance.
"I have worn many different hats at work, it feels like I am always learning, progressing and evolving. I have also been given wonderful opportunities to experience many parts of Australia I never felt I would see. I love working with customers, some of which I have worked with for over ten years, so I have been able to forge some really strong relationships during that time," says Amanda.
My challenges
From a career perspective, I have applied for numerous roles and was not always successful. Its important not to get too discouraged and remember it's not necessarily a reflection of your value. It's ok not to get those roles but applying for them does illustrate your determination and drive to succeed. I always tried to focus on my next career opportunity.
Having a family also meant coming to terms with "stepping down" for a while. I also needed a better work/life balance. With my children growing up, being a mum and having a career was always important to me. I was fortunate to be in a flexible working environment.
My motivation
I am motivated by our purpose to make a difference in peoples lives, but also by my colleagues at work. It gives me great pride that some of the people I have mentored have grown in their own roles, become more independent and embarked on their own career journey. So, whilst the job can have its challenges, for the most part, it's really motivating because of the people that you work with.