"Seeing people's personal growth over my years at MedHealth has been a significant career highlight. Being around the business for this long, I have seen so many of our people grow up and achieve great things with us. I have also developed some valuable professional and personal life-long relationships along the way."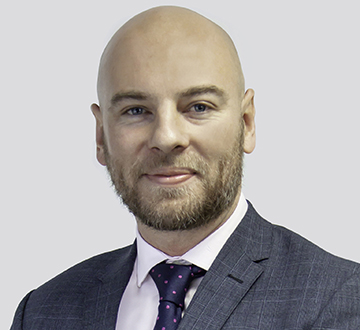 My career journey with MedHealth
After leaving school Ben O'Neill became a carpenter, but he would soon begin shaping a very different career in the personal injury sector. Following a football injury to his elbow, he was intrigued by his personal road to recovery, especially the work of Physios and Exercise Physiologists.
Ben decided to attend university in Melbourne and gained the Exercise Physiology qualifications and with that the necessary skills and knowledge to become a Rehabilitation Consultant, and in 2006 he commenced with MedHealth's IPAR business.
IPAR quickly expanded and Ben was looking to further his career and uncover new business growth opportunities. He moved up through IPAR's ranks quickly — as Branch Manager, then Victorian State Manager, NSW State Manager, National Operations Manager and then IPAR General Manager. Soon the business had become the largest provider of occupational rehabilitation services in Australia, employing more than 350 people.
Along the way a range of other businesses have also grown under Ben's leadership, including WorkFocus Australia, Kairros, SIS, and Ability Action Australia, all of which he oversaw in his capacity as Group Executive — RTW, Health and Clinical Services for MedHealth.
In 2021, Ben accepted a role as Group Executive of NDIS Services, to support MedHealth's NDIS businesses with leadership and advocacy. "My roles have always required championing strong client engagement and customer relationships and most importantly, collaborating with supportive and passionate leaders and team members," says Ben.
Another reason growth is important to Ben is that it affords MedHealth employees the opportunity to grow with the business and "build out a meaningful career".
"I can think of many people in our businesses that have been able to progress and benefit from the growth achieved…I am one of them. We'll continue building an awesome team and culture here, as well as building out scalable business processes and systems," he says.
My challenges
Navigating the pandemic remains one of the greatest challenges during my career. Making sure we could continue to run the business and support as many people as possible was our focus. We needed to make some assumptions, plan for the unexpected and ensure our team members remained safe.
We were all impacted in some way by COVID-19, so it was making sure that we wrapped our arms around our workforce and understood how they were, how they were working through that unique period of time, ensuring we provided adequate support and the opportunity to keep them motivated and as happy as possible. It is fair to say it was a fairly stressful period.
My motivation
I think my biggest motivation and inspiration comes from the people around me. I am motivated to do better because of their passion to help others, whether that be their clients, participants, or their own work colleagues. Everyone here is hard-working and aligned with our values to make a difference in people's lives. They care about what we are trying to do.
My career highlight
Seeing people's personal growth over the years at MedHealth has been a significant career highlight. Being around the business for this long, I have seen so many of our people grow up with us and achieve great things. I have also developed some valuable professional and personal life-long relationships along the way.
We have definitely developed resilience and the ability to ride the ups and downs, thanks to experience and some really good people at MedHealth. It makes our achievements that much more special.